CREATE POWERFUL EVENT SOLUTIONS
NOOK EVENT PODS CAN BE MANY THINGS
Reception Kiosk
Note taking booth
Bookable Meeting space
After-event networking pod
Work space
Power charging pod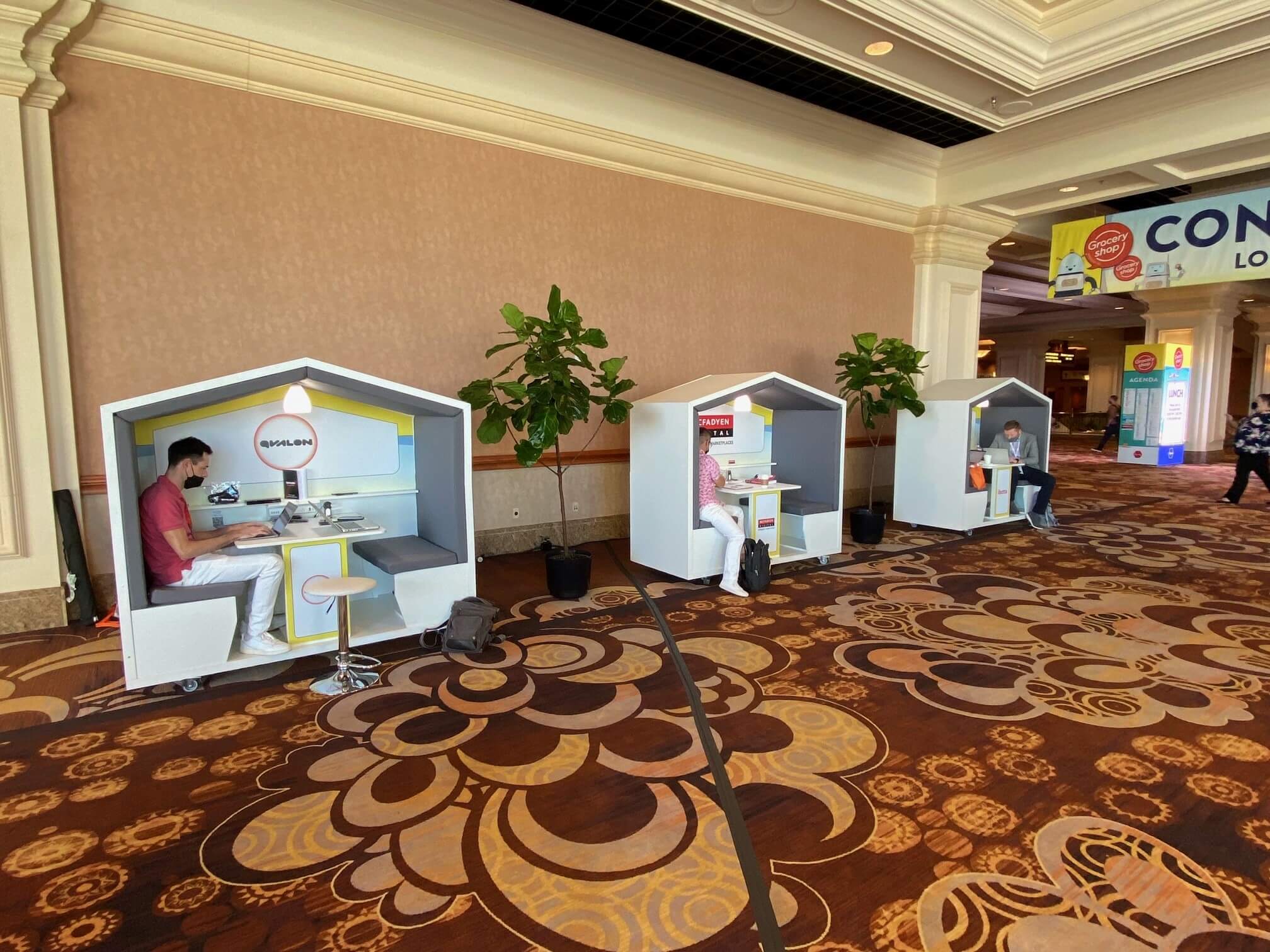 Rethink Meeting Zones, Relaxation Stations and Catering Areas
Trade Show Exhibit Halls are generally overflowing with attendees, but lack quiet space for meetings, networking or relaxing or for seating in a food and beverage area. At many shows, finding some semblance of privacy is nearly impossible. Attendees are forced to go offsite or worse still, find a table in a common area, where it's difficult to negotiate or discuss confidential material without being overheard.
NOOK Event Pods by The Deondo Company provide event management companies a solution that attendees and exhibitors love. The modular, mobile, semi-private meeting space of a NOOK Event Pod is designed to allow for collaboration, presentations, negotiations and closing deals. It's also perfect for networking and relaxing, as The NOOK Event Pod provides solitude from the crowds. Attendees and exhibitors don't have to leave the venue to find privacy and comfort just off the busy, main event floor.
With the NOOK Village (or the combination of multiple NOOK Event Pods), show organizers can construct a meeting zone that can be monetized by selling corporate sponsorships for the area and/or leasing out meeting space on a daily or hourly basis.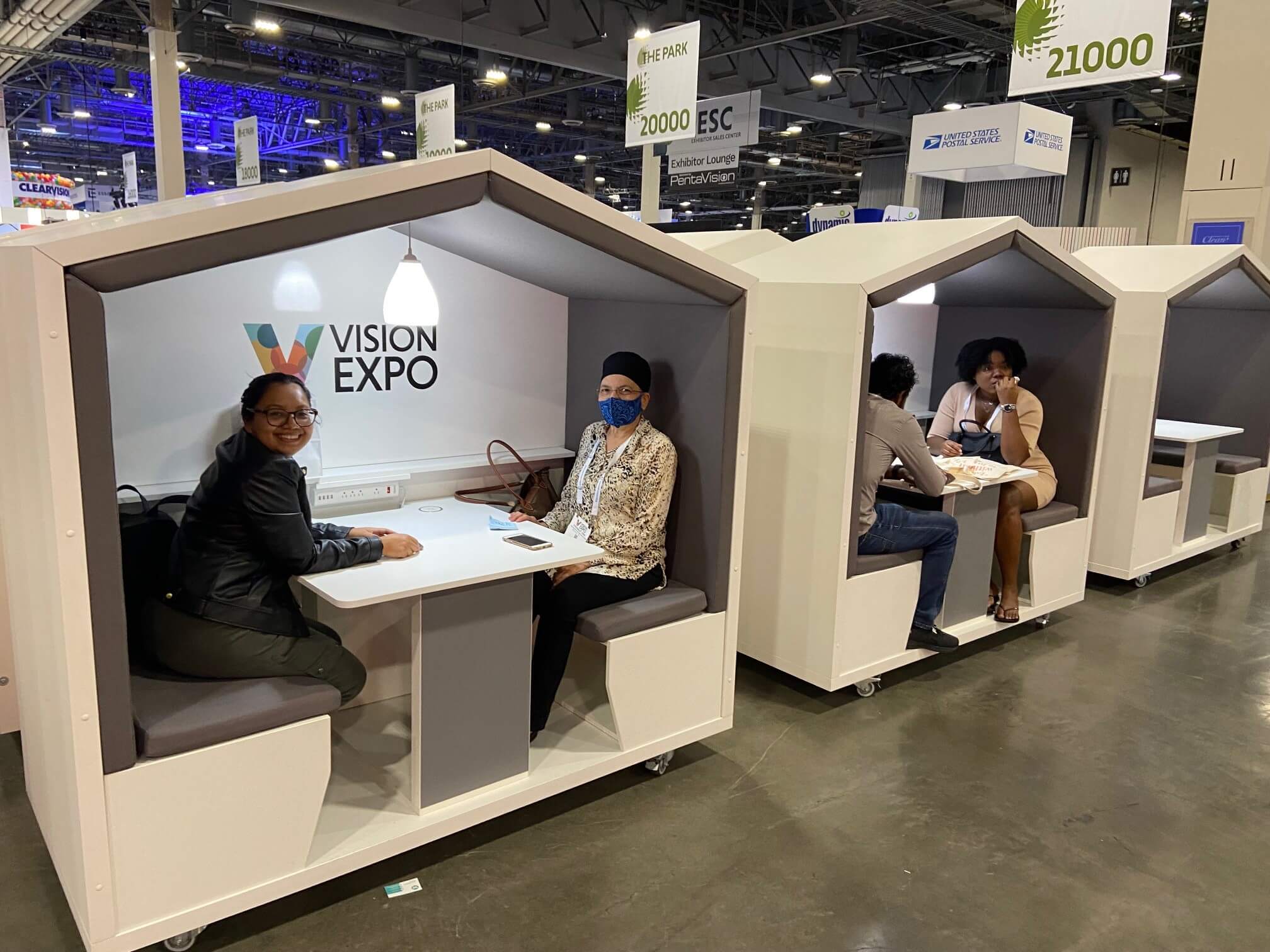 Multiple NOOK Event Pods can also be utilized as part of a Food and Beverage offering. The units are positioned in an end-to-end "U" configuration and the upper half wall on each unit is removed. A food and beverage service station is placed in the middle of the "U," and voila! a café or coffee/juice bar is created. This offers attendees and exhibitors a place to talk, power up their mobile devices, grab a coffee or bite to eat and meet with prospective clients, employees or colleagues.
Other Attributes:
NOOK Event Pods are mobile! They come completely assembled and ride on heavy-duty casters, which allows for easy movement on the event floor or from one location to another. The Deondo Company maintains inventory of NOOK Event Pods in key trade show cities throughout the United States and can cater to last-minute requirements.
NOOK Event Pods come standard with power supply units, USB ports and wireless charging stations. They can also be outfitted with digital monitors inside or outside the unit for messaging or presentations and logo/branding display.
Most folks attending a trade show are still charged with daily assignments, sales calls and proposals. The NOOK Event Pod – with its tech-equipped workspace and relaxed, focused environment – allows for execution of those tasks without exiting the event.
The NOOK Village by Deondo is an excellent addition to any trade show and a unique revenue generating program for the show owner or management group.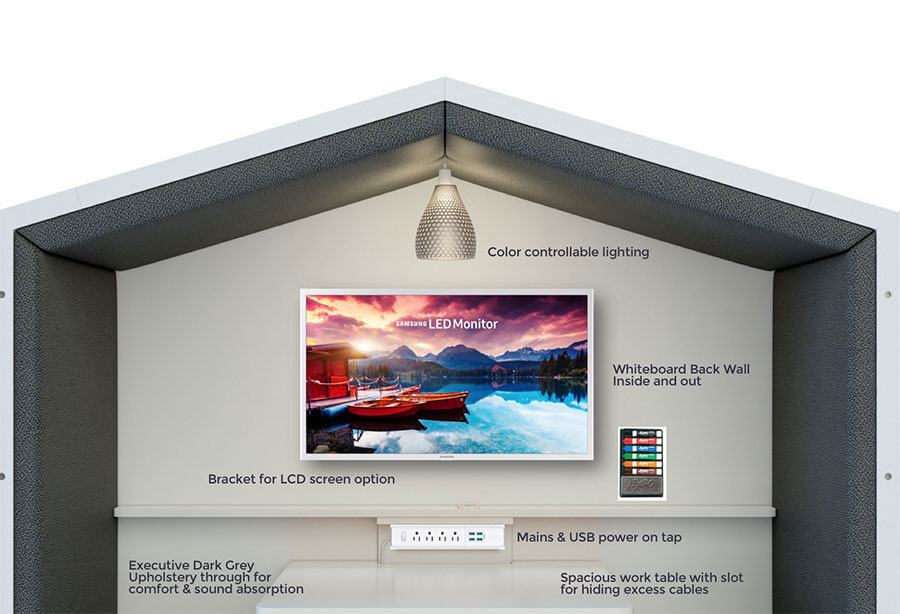 SPONSORSHIP
OPPORTUNITIES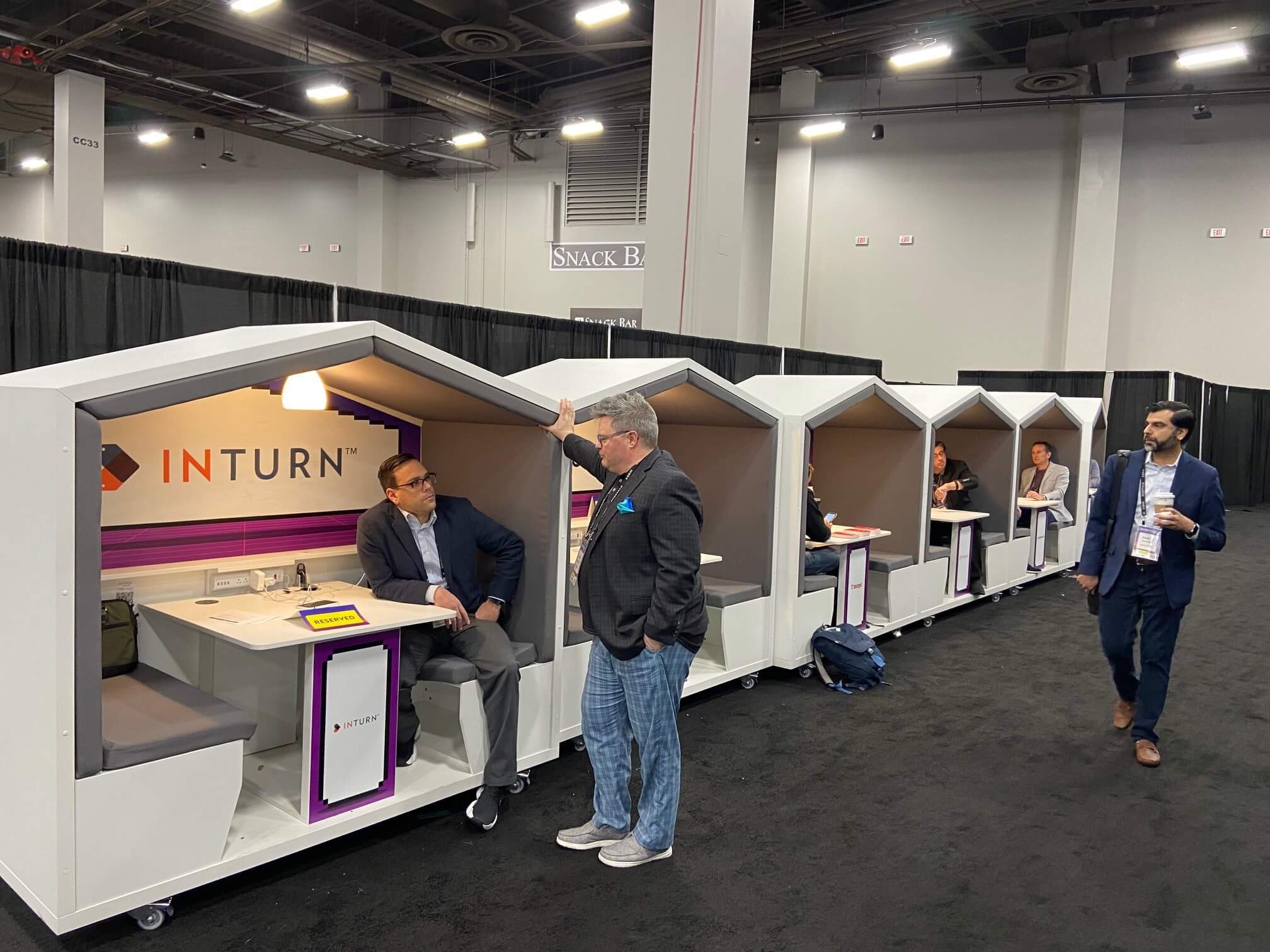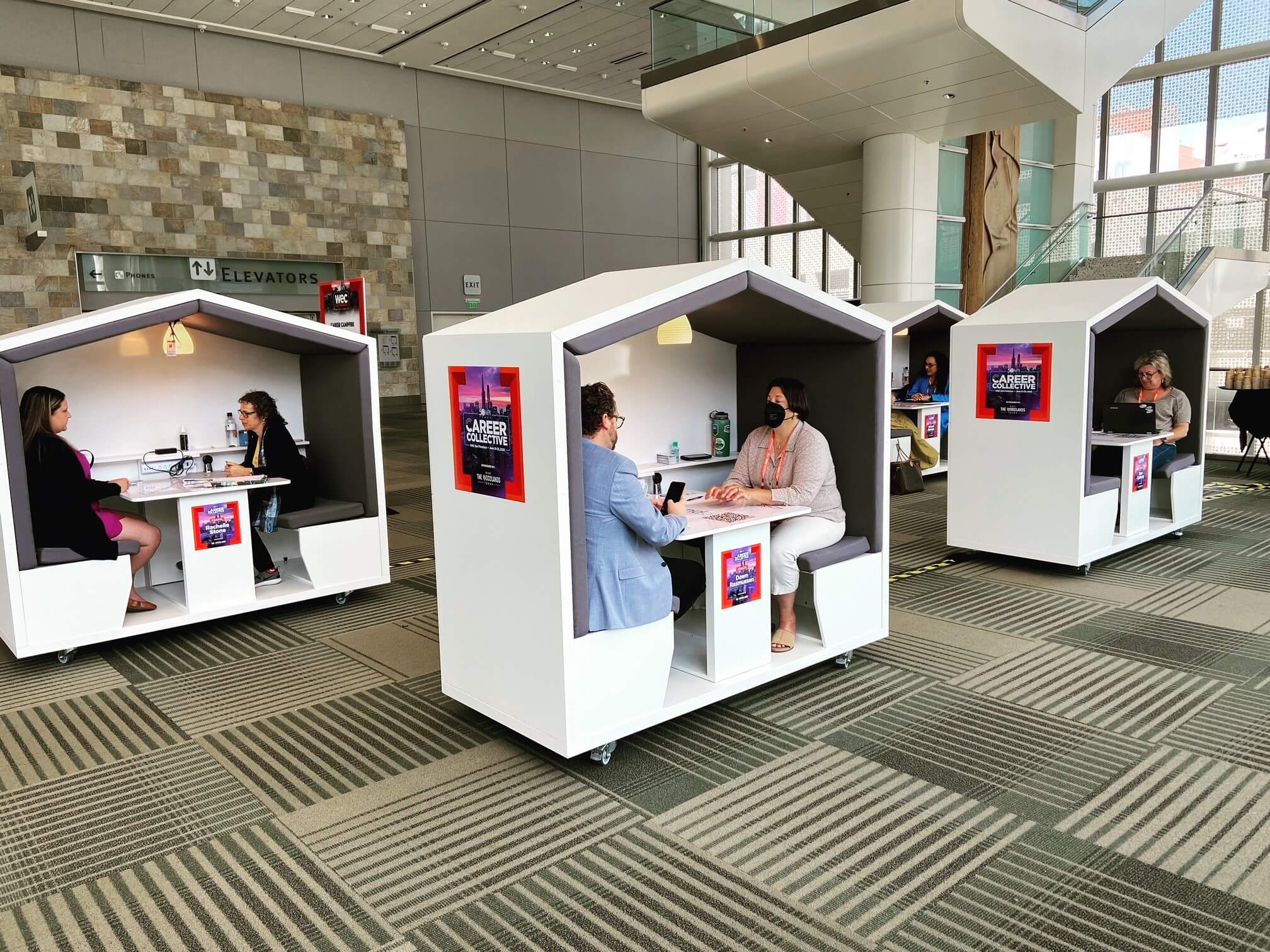 NOOK Event Pods creating a unique revenue generator for our clients. Corporate sponsors are looking for fresh ideas for their brand objectives and NOOK Event Pods have the ability to shine in various sponsorship bundles. The NOOK Event Pod can be a complement for your sponsorship packages such as in Event Sponsorships and Area Destinations such as "Meet the Expert", registration areas, networking reception events or even as training modules.
Provides Event Owners with Opportunities to Fill The Hall
Renting NOOK Event Pods are a cost-effective solution to filling empty spaces on the trade show floor or to add comfort for attendees throughout the exhibit hall. Easily moveable on heavy duty castors, the NOOK Event Pods can have multiple uses throughout the day providing multiple sponsorship opportunities. Don't let unsightly or underutilized areas lower your ROI, instead rent NOOK Event Pods to gain additional sponsors and to provide attendees with comfortable areas to relax and recharge.
Turn Wasted Space into a Great Place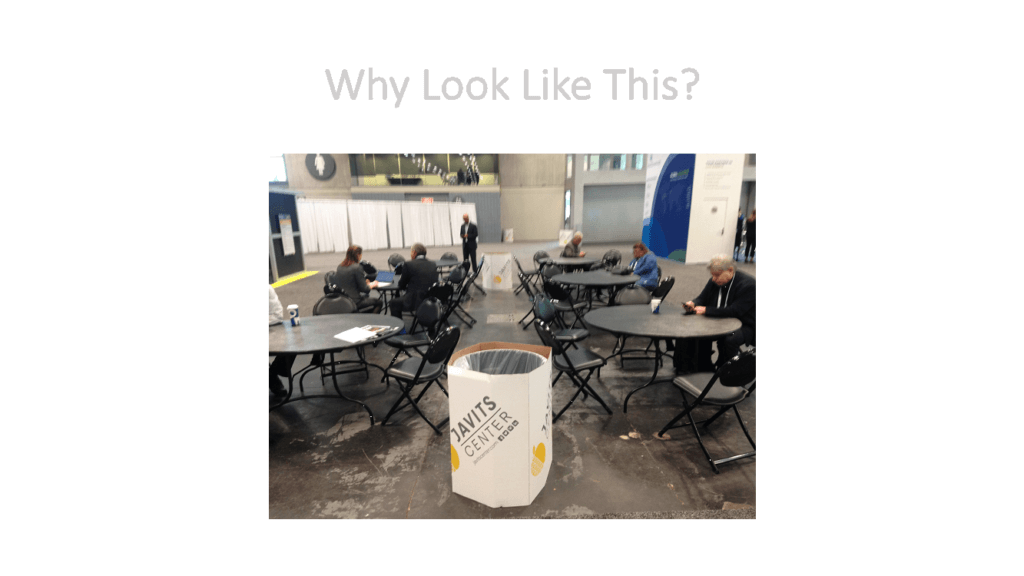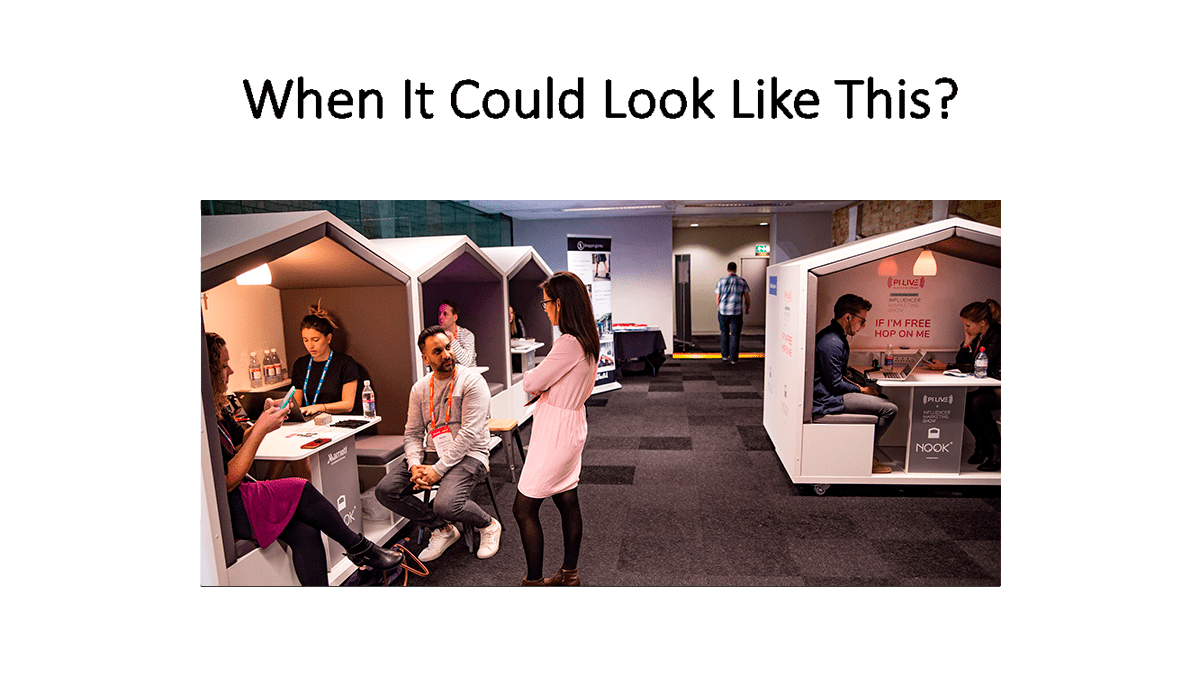 The Deondo Company believes in making the NOOK Event Pods affordable for all companies in the Event Industry. Our philosophy is centered around providing a great value for our customers while helping to manage preparation, set up and tear down and dealing with the show management or facility management professionals on your behalf. The greater quantity NOOK Event Pods rented and the longer period of time provides the best per day fee in the industry.
The Deondo Company will work with you to provide a cost-effective branding solution to match your client's requirments. From 50cmx50cm spots to fully designed and wrapped offerings, we'll make sure to fit with your budget and provide the biggest bang for your client's brand.
The Deondo Company is a nationwide and continental company with inventory located in key Trade Show Market cities throughout North America. Keep an eye on this spot as we update our locations starting in the USA.
The Deondo Company
News

for NOOK Event Pods
There's no better feeling than when you've successfully sealed the deal or agreed to initiate a new project with a colleague or customer. At NOOK [...]
Are we still "dressing for success"?  Does that adage even apply in 2020 and beyond? At a time when success is highly individualized and our [...]
Your manager is critically, intrinsically attached to the success of your team or business unit and to a lesser extent, to your personal job performance. [...]
CONTACT
The Deondo Company
TODAY
To BookANOOK
Follow NOOK EVENTS On Social Media
7980 N Atlantic Ave
suite 101
Cape Canaveral, FL 32920
Phone: 561-336-6360
Email: [email protected]