Are we still "dressing for success"?  Does that adage even apply in 2020 and beyond? At a time when success is highly individualized and our differences are (generally) embraced, it's only fitting that business dress has changed with the times and become more reflective of individual style. At NOOK Event Pods, we share a few simple dress basics that make readying for a work a breeze.
Dress intelligently.
Feel good in your clothes! Ensure that your apparel instills confidence without depriving you of comfort. You don't want to feel physically restricted or arrive over/underdressed.
Proper footwear is a must!
The wrong footwear can make a long day feel longer. Invest in high-quality shoes that feel as good as they look. You don't have to forsake fashion for functionality.
3. Wear layers.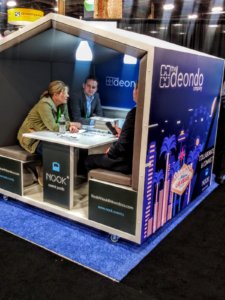 Whether you're in a hot or cold weather climate or are exposed to the environment or not, dressing in layers (or taking an extra layer along for the ride) allows you to adjust to the indoor or outdoor temperature as needed.  Being overly cold/hot can impair performance and impact results.
4. Know when to break the rules.
A special work event can require different attire. Take a cue from the event's theme or ask someone who previously attended. If the event features NOOK Event Pods, you're in for a treat!
The award-winning NOOK Event Pods are mobile meeting spaces designed for use at events, conferences and trade shows.  As they are easily brandable, NOOK Event Pods are perfect for corporate sponsorship packages and exhibitor booths. The high-tech built-ins and expert acoustics provide the perfect space for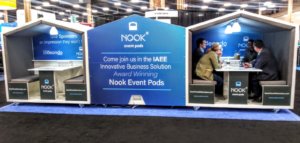 private client presentations and meetings, networking, relaxing and even dining. BOOK A NOOK® today for your next event or trade show and see the difference!
For more information on our mobile meeting spaces, like NOOK Event Pods on Facebook and follow us on Twitter and Instagram. You can also find us on LinkedIn.