You've heard the old saying "Health is wealth."  Well, that's exactly the motivation behind corporate wellness programs! Corporate wellness encourages healthy habits both in and out of the professional setting. And while corporate wellness programs may seem like the perfect solution to bridge employees' health issues and an employer's revenue, each side likely views these programs slightly differently.
The Employer Perspective:
The Pros:
Specific programs like weight loss incentives can create healthy competition in the workplace, encouraging employees to increase engagement and trust in their coworkers.
Healthier employees require fewer sick days and may require less extensive employer-sponsored insurance.
Wellness programs give employees the impression that an employer is interested in their overall wellbeing, inspiring them to work harder for a corporation that cares about them.
The Cons:
Wellness programs and their incentives cost money, and the cost may be too much of a burden for smaller businesses.
Wellness isn't just about physical health. It's also about mental health – which can be complicated.
Employers may or may not be equipped to address the range of their employees' health needs, possibly risking alienation of some of their best workers.
Getting employees to participate in wellness programs while at work could negatively impact their on-the-clock productivity.
The Employee Perspective:
The Pros:
There's no downside to improving one's mental and physical health!
There's much personal gain when an employee believes that the employer sees them as an individual worthy of investment.
Winning a corporate wellness challenge as an individual or as a group boosts morale.
The Cons:
Employees who are introverts or have anxiety may find discussing wellness at work overwhelming or triggering.
Employees may want to keep their health matters private and may consider wellness programs an invasion of privacy.
The Bottom Line
For both employers and employees, corporate wellness is an investment. The bottom line is to create a healthier work environment that has the potential to boost employee morale and improve overall health and wellness, while also increasing employers' revenues and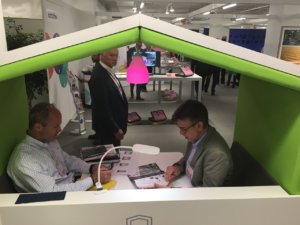 workplace productivity.
NOOK Event Pods are mobile meeting spaces designed for use at events, conferences and trade shows.  As they are easily brandable, NOOK Event Pods are perfect for corporate sponsorship packages and exhibitor booths. The high-tech built-ins and expert acoustics provide the perfect space for private client presentations and meetings, networking, relaxing and promoting that work/life balance.
For more information on the many ways NOOK Event Pods can create better environments that support the wellbeing of event attendees, like us on Facebook and follow us on Twitter and Instagram. You can also find us on LinkedIn.