Who doesn't love one-stop shopping?! Isn't it great to find everything you need in a single place? Enter NOOK Event Pods! Our mobile meeting spaces are the solution to many age-old event problems – low ROI, low product engagement, underwhelming advertising space and difficulties with attendee retention. Here's how NOOK Event Pods deliver one-stop shopping and better events for all:
Event and Show Owners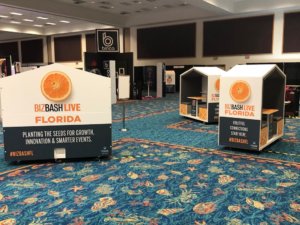 Empty floor space translates into lost dollars. Event owners can use NOOK Event Pods to turn unused floor space into revenue-generating real estate. As part of corporate sponsorship packages, the fully brandable NOOK Event Pods offer sponsors high-level visibility (think of NOOK Event Pods as the billboards within your event space) on the event floor while also creating functional spaces that attendees both need and appreciate.
NOOK Event Pods can also be used as promotional tools for an event owner's upcoming events – advertising for future events and shows.
Exhibitors
Event success is often gauged by an exhibitor's ability to consistently and thoughtfully engage attendees and clients. NOOK Event Pods provide a private, nearly-soundproof setting where exhibitors can highlight their services, deliver presentations, host product reveals, and use high or low-tech options to demo their brand's offerings.
The noise-reduction properties of NOOK Event Pods allow for private conversations and negotiations and keep attendees and exhibitors from having to shout over the din from the event floor.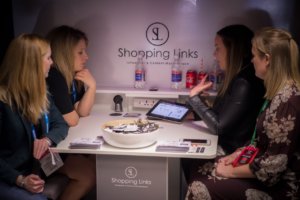 Sponsors
Sponsors benefit from NOOK Event Pods' unique, eye-catching advertising capabilities. Measuring 6.5 ft. tall by 6 ft. long, our fully brandable mobile meeting spaces offer high visibility on a crowded event floor.
Companies have the option to prominently display their brand with a complete wrap of the NOOK Event Pod or by adding logos and signage to the exterior, interior and roof of our mobile meeting pods.  Let NOOK Event Pods function as your brand's billboard on the event floor! Customized NOOK Event Pods create long-lasting impressions.
Attendees
Busy events can quickly become crowded and overwhelming. NOOK Event Pods provide attendees with a designated space where they can retreat for decompressing – to recharge their tech, check-in with family, network casually or enjoy a bite to eat or drink.
Conversely, NOOK Event Pods are also perfect for attendees who are in high demand and need a private, quiet space to catch up on office tasks, conduct impromptu meetings, check emails, take calls and more.
NOOK Event Pods are exhibition powerhouses with versatility that make them perfect for show owners, exhibitors, event sponsors and attendees.  For more information on the many ways our mobile meeting spaces can positively impact an event's revenues, sponsorships, attendee satisfaction and exhibitors' success, like us on Facebook and follow us on Twitter and Instagram. You can also find us on LinkedIn.