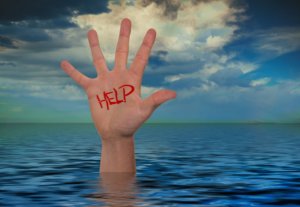 Drowning in the details of planning that next business conference or corporate event?  We get it!  So at NOOK Event Pods, we're pitching a quick list of planning and organizing tips that will be a real lifesaver!
Before the Conference
Select a venue based on projected attendance and location.  Ensure that the space will allow the conference to meet its goals, while also providing attendees with a venue that's easily accessible (via plane, train or automobile), has nearby hotels that are diverse in terms of pricing and comforts, and has plenty of local restaurants and attractions that attendees can enjoy after hours or in their downtime.
Delegate a team leader for each important task. For example: booking speakers, registration, general finances, swag, program planning, technology, sponsorships, registration and guest arrival, etc.  Depending on the size of your team, you could leave venue selection to one of your team leaders.
Create a budget and stick to it! Inform your team leaders of the plan and spending allowances and always require quotes and contracts for services rendered.
Solicit sponsors. Sponsorships provide businesses with an easy outlet for advertising and brand interaction, and those same sponsorships deliver additional revenues for your event. NOOK Event Pods are a critical piece of sponsorship packages, as our mobile meeting spaces allow sponsors to own a unique place on the event floor and brand it with their logo, corporate signage and messaging, increasing brand exposure and reach.
Advertise early and often. Build a buzz for your event by offering incentives, teasers and more. Use social media, email marketing, website promotions and traditional advertising methods to reach the widest audience.  Create a hashtag or two specific to the event and ensure it is used consistently across all media.
During the Conference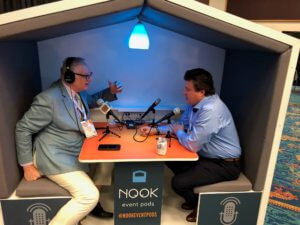 Dig deep on the promotions! Incentivize vendors, exhibitors and attendees to share photos and use your hashtags. Hire photographers and videographers to capture the event and share those images and videos across social media, websites and throughout the conference venue.  Show what a great time everyone is having and highlight the benefits of attending.
NOOK Event Pods are picture-perfect! Not only can you capture attendees presenting to clients, negotiating deals, networking or catching up with colleagues, but you'll also find that our mobile meeting spaces make for the ideal, acoustic-friendly interview hub.
Make sure the sponsors' needs are met. After all, creating a good relationship can result in lasting sponsorships for future events.
Distribute goodies or swag so attendees have a positive, lasting memory of the event. Ideally, keep it simple and useful and something that can double as a future promotion – branded tote bags, pens, reusable water bottles, etc.
After the Conference
Congratulate your team! Planning a conference is hard work.
Assess the success of the conference and take suggestions for improvements while the event is still fresh in your mind.
Advertise again! Show the public the event highlights and use this as a time to publically thank the exhibitors and sponsors.
Apply these tips for all upcoming events and see how easy it is to keep that sea of organizing despair at bay.  And book NOOK Event Pods for better events that benefit both attendees and sponsors, while also impacting event revenues.
For more information on NOOK Event Pods and tips and tricks for planning a successful event, like us on Facebook and follow us on Twitter and Instagram. You can also find us on LinkedIn.