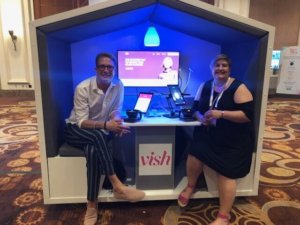 As an event owner, many of the decisions you make come down to dollars and cents (and sense!).  Success is often about maximizing floor space and ensuring that every square foot is accounted for and that each exhibitor installation is a profit-making venture. With NOOK Event Pods, you can turn dead or empty floor space into a revenue-generating opportunity.  Take a better look at how you can amplify the ROI on your next event with NOOK Event Pods.
Provide meeting space and work stations to attendees and exhibitors and use NOOK Event Pods as sponsorship opportunities.
Lease NOOK Event Pods to event exhibitors and attendees on an hourly or daily basis. NOOK Event Pods provide a quiet meeting space to network, negotiate and make presentations to clients, all just steps away from the noisy, busy event floor.
Use NOOK Event Pods as promotional tools for your future events. Add digital displays and/or wrap the unit with logos, branding and signage for upcoming events, conferences and trade shows. Generate a buzz in advance.
Increase media coverage of the event by offering NOOK Event Pods as quiet places to conduct interviews, podcasts, etc. (bolstering interest, attendance and social media chatter).
Use NOOK Event Pods as bookable promotional tools for event sponsors, local businesses and other brands. Add digital displays and/or wrap the unit with logos, branding and signage for effective, eye-catching advertising.
Book multiple NOOK Event Pods to create "NOOK Villages" or clusters where attendees can relax and unwind or gather for a meal or coffee.
Lease multiple units to your food and beverage provider to function as a café setting. This keeps attendees at your event, spending money in-house, rather than leaving your event venue to eat, drink, relax and unwind.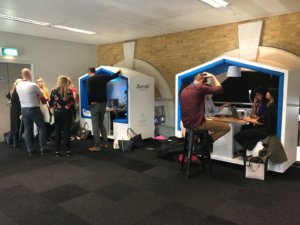 NOOK Event Pods are the perfect solution for event owners, turning empty floor space into a revenue-generating proposition.
For more information on how NOOK Event Pods can be instrumental in generating a higher ROI for your next event, visit our website at https://NOOK.events/ and don't forget to like us on Facebook and follow us on Twitter and Instagram. You can also find us on LinkedIn.