"Before anything else, preparation is the key to success." -Alexander Graham Bell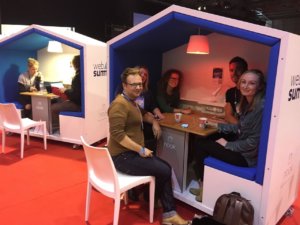 Whether you're a new or seasoned event planner, you know that proper preparation is often the difference between an event that is well-received and one that puts a nasty ding in your reputation. If you're looking for a smart decision that builds a buzz about your event, look no further than NOOK Event Pods. Check out these reasons why NOOKs are the perfect complement to corporate events, conferences and trade shows:
NOOK Event Pods provide multiple revenue generation opportunities as bookable meeting spaces that can be rented by the day or hour. They can also be leased as promotional space (NOOKs can be wrapped or used for digital advertising or cling logos) for local businesses and event exhibitors.
NOOK Event Pods are perfect for exhibitors and attendees who need a semi-private space to complete business tasks. Two to four people can gather comfortably in a NOOK for meetings, presentations and negotiating. And others can position chairs and seating on the outside of the NOOK and be fully engaged.
Exhibitors who want to offer a high-tech experience can book a NOOK that's pre-fitted with equipment to run a comprehensive virtual reality demo in a semi-enclosed space that allows for privacy and a more complete VR experience. It's perfect for showcasing products in a non-traditional way!
NOOKs help a brand or business stand out as one that values customer satisfaction and the long-lasting benefits of positive user engagement. An oasis of calm from a busy main floor, NOOKs promote the work/life balance that busy executives crave.
When you book a NOOK, your service includes delivery to the destination of your choice, testing and packaging removal.Note that NOOK Event Pods come fully assembled (you don't have to worry about missing or misplaced booth equipment) and are set on heavy-duty casters for ease of movement into the event locale and on the event floor. And because everything required to build and use your NOOK comes in and then leaves with us (there's no waste and unused packaging materials), NOOKs promote an eco-friendly event.
Planning a conference, trade show or corporate event can be a daunting task, but when you start with NOOK Event Pods and build in a lead time that allows for proper organization (and the occasional hiccup), you're destined for success.
For more information on NOOK Event Pods and tips and tricks for planning the perfect corporate event, like us on Facebook and follow us on Twitter and Instagram. You can also find us on LinkedIn.