What We've Done:
Designers and event planners like to let their imaginations run wild, and our mobile meeting spaces are a catalyst for rethinking underutilized event floor space. NOOK Event Pods allow organizers to generate additional income from space they've paid for but struggle to monetize. 
We've had to chance to put NOOK Event Pods on the scene at unveilings, product showcases and more.  Our mobile meeting spaces provide the "Studio Treatment" on the floor!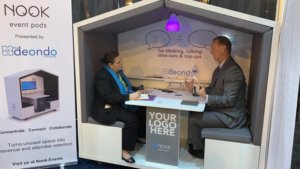 Due to the special acoustics built into NOOK Event Pods, there's no need to raise your voice to be heard (common with traditional booths).  You can conduct business and negotiate without being overheard and without having to scream above the din on the event floor.  NOOK Event Pods have three walls, which eliminate the concern about privacy, unwanted interruptions and distractions, allowing users to operate much more efficiently and productively.
Where We've Been: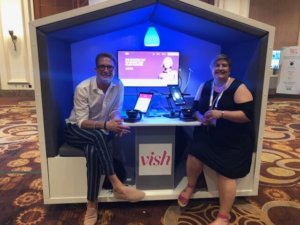 In 2018, we were thrilled to be a part of NeoCon, EdSpaces, Expo! Expo!, Clerkenwell Design Institute and other fantastic shows and events.  These were the environments where we first saw and coined the phrase "NOOK Face," which is the expression users get upon first entering a NOOK Event Pod and realizing the reduction in white noise, elimination of eavesdropping and distraction, and sense of being in a private space.
We've also spent time connecting with trade associations to become a staple for show kits. NOOK Event Pods are an upgrade to any event and command a respectability that offers:
New/additional sponsorship opportunities.
Village/community-type atmospheres.
Opportunities for monetized messaging through branding.
Optimal meeting spaces for pre-set appointments, writing orders, displaying data on-screen, etc.
Perfect space to conduct high-level meetings and make presentations with ease. 
Where We're Headed: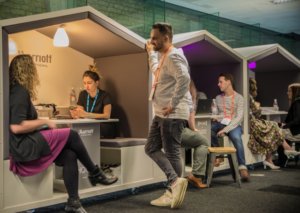 What can you expect from NOOK Event Pods in 2019 and beyond? A great focus on customization and innovative products designed to make event spaces more functional for a better overall experience. 
We'll continue to design NOOK Event Pods that inspire event planners and event owners to rethink and monetize underutilized floor space that:
Fosters an atmosphere conducive to engagement.
Creates smaller cones of interaction from 4-10 users (based on number of NOOK Event Pods leased).
Provides sponsorship opportunities based on the experiential knowledge gained from customer feedback (e.g.: color customization beyond our standard Blizzard Grey upholstery – we plan to offer approx. 90 choices from the Camira Xtreme fabric line)
Overall, it's been a fantastic year! Thank you for allowing NOOK Event Pods to be the face of mobile meeting spaces.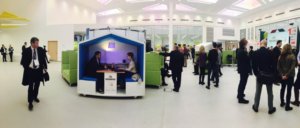 To stay current on what's happening and what's next for NOOK Event Pods, visit our website at https://NOOK.events and don't forget to like us on Facebook and follow us on Twitter and Instagram. You can also find us on LinkedIn.