What happens when a NOOK Event Pod, the premier portable meeting space for trade shows, conferences and business events, is reimagined to meet the needs of those with disabilities or special needs? You get the world's first Sensory NOOK! The Sensory NOOK debuted May 2018 at Clerkenwell Design Week in the UK. Keep reading for more information about this newest product from The Deondo Company.
The Need:
Make everyday spaces – like corporate events, trade shows, conventions – accessible to and considerate of those with disabilities and special needs. The Deondo Company partnered with AmbiSpace Ltd., the sensory technology specialists, to solve this problem. When adaptable, sensory technology was built into into the emotionally intelligent NOOK Event Pod, the result was the world's first Sensory NOOK Pod, designed to support individuals with special needs, affording them a better work and life experience.
Who Benefits:
Traditional NOOK Event Pods are designed with acoustics in mind – allowing an event's attendees to escape from noisy, crowded main floors. Sensory NOOKs take this concept a step further.  Sensory NOOKs are outfitted with equipment specifically designed to meet the needs of those with sensory integration differences or delays, often common with Autism or Dyslexia, by reducing the input of the outside environment. The Sensory NOOK reduces anxiety levels and disruptive behaviors of occupants, allowing them to better cope with and function in challenging, noisy event surroundings.
The Product Range: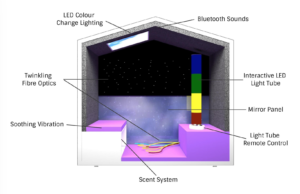 Sensory NOOK-Light – This Sensory NOOK is packed with interactive and tactile technology to support individuals who benefit from calming or stimulating effects. Features include an interactive infinity tunnel, LED light tube, fiber optic carpet fitted to the walls, fiber optic tails with UV color enhancement and a mirror panel.
Sensory NOOK-Escape – This model is equipped with a Bluetooth sound system to play relaxing sounds and a comfortable padded base with soothing vibrations.  The calming glow of UV lighting and twinkling fiber optic carpeting on the ceiling and walls promotes relaxation.  It also features a retractable screen that can be closed to enhance the feeling of security.
Sensory NOOK-Support – This Sensory NOOK features color intensity controls for lighting and scent enhancements that lift users' moods and reduce anxiety. It is highly adaptable and effective for those with Autism or Dyslexia.
At The Deondo Company and NOOK Event Pods, we work tirelessly to ensure that event attendees and exhibitors have positive event experiences.  Because when attendees and exhibitors enjoy themselves and find their needs are met, everyone benefits, including the event organizers and planners!
To learn more about the Sensory NOOK and innovative ways NOOK Event Pods are improving lives, events and business, be sure to like us on Facebook and follow us on Twitter and Instagram. You can also find us on LinkedIn