Travel much?!  Do the ups and downs (literally), complications and crazy logistics of business travel have you exhausted before you even arrive to your destination? Having logged far too many frequent flyer miles, we've compiled our top tips for getting you there and back, hassle-free (or, maybe not "hassle-free" but certainly less stressed) and on top of your game. 
Plan Ahead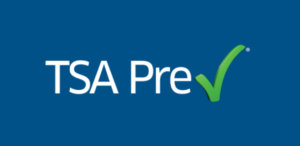 Apply for Global Entry and TSA Precheck travel clearance programs. They're huge time-savers and provide many advantages for frequent business travel.
Make digital and hard copies of your important travel documents (passport, license, health insurance, etc.) in case of an emergency. Always confirm that digital copies are password protected.
Don't leave your Internet connection to chance. Check if your cell phone can be used as a mobile hotspot or consider purchasing a portable mobile hotspot to avoid relying on insecure, spotty connections at hotels, airports, restaurants and other public spaces.
Pack Light
Fully charge your tech the night before and pack your chargers in your carry-on, where they're readily available.
When possible, travel with carry-on luggage. Learn to pare down, packing only the essentials and remember TSA rules for carry-on items. Remember that checked bags are an added expense.  With checked bags, you also run the risk of losing your luggage, which means you might not have the required suit, dress or tie for your first meeting.
Fly Smart
Research your flight options. Round-trip tickets are convenient, but they're sometimes more costly and offer a less-than-ideal itinerary.  Booking two one-way tickets has its advantages.
When possible, choose non-stop flights to save time (and often money).
Check business and economy class options for deals, especially during holidays when most travelers fly before or after the actual holiday.
Check the airline's track record of on-time arrivals and flight cancellations and be aware of those statistics when considering your carrier of choice.
Use Social Media Like a Pro
Reputation is everything! Hop on social media if you're experiencing a problem with an airline. Many of the major carriers are highly responsive to their social media accounts, especially Twitter.
Download apps that allow you to send messages without racking up SMS charges. WhatsApp and Facebook Messenger are great options.
Apps like TripIt or AwardWallet are good for tracking airline miles or keeping the details of your itinerary organized.
If attending corporate events during your business travels, we hope the venues have NOOK Event Pods on hand, offering you a designated space to work, network, meet with clients and recharge.
For more tips and tricks to make life on the road or in the office easier and more hassle-free, like us on Facebook and follow us on Twitter and Instagram. You can also find us on LinkedIn.