When you're a show owner or manager who's responsible for event revenue growth, sponsorships are your bread and butter. At NOOK Event Pods, we understand that creating value is of utmost importance. Exhibitors and event attendees are eager for new, innovative concepts that stand out and make your event exceptional.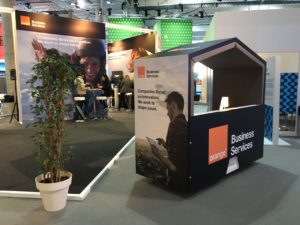 Offering NOOK Event Pods as part of premier sponsorship opportunities creates a lucrative revenue stream for event owners and managers. NOOK Event Pods command a real presence on the event floor (they are 6'7" long by 6'5" high).  Each part of the unit can be emblazoned with a brand's logo or signage or the entire unit can be wrapped, generating eye-catching, serious advertising exposure that puts the sponsor front and center on the event floor.  Think of NOOK Event Pods as billboards within a venue space.
As we all know, repetition is the key to any marketing strategy. Premier event sponsors can organize a series of NOOK Event Pods, placed strategically throughout the venue, to provide increased opportunities for attendees to engage with their brand's logo and signage, thus building brand recognition and brand awareness, which are critical to a business's success and longevity.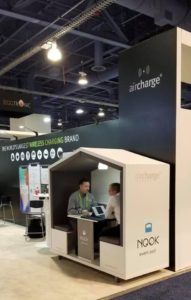 Premier sponsors can also capitalize on attendees having to meet their basic needs – dining and the occasional snack break. Businesses or brands can sponsor a group of NOOK Event Pods with a pass-thru dining experience. Combine the units with food and beverage options that are popular, convenient or related to the event's theme and suddenly you have a built-in dining/relaxing/meeting space inside the event venue.  It becomes a pretty powerful branding message when event attendees say to one another, "Let's meet at the XYZ coffee bar."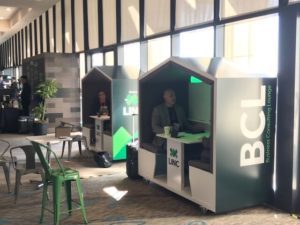 Within the confines of an event, privacy and quiet are rare commodities, and attendees are typically forced into very public, loud spaces – outer lobbies or the common areas at reception or the cafeteria. For event attendees, NOOK Event Pods offer a private, quiet space, steps away from the main floor, where presentations can be made, deals can be done and networking and relaxing are a given. Event attendees put a serious premium on this type of rare refuge.
For more innovative ways NOOK Event Pods can impact your event's bottom line and for additional information on the revenue potential of NOOK Event Pods, like us on Facebook and follow us on Twitter and Instagram. You can also find us on LinkedIn.